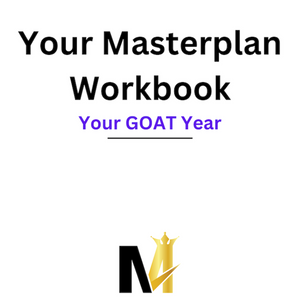 Are you committed to making this year the best yet? This M4 Mastermind Workbook was created to make you be intentional about your goals and create habits that will support your dreams! This will help you define your goals, stay focused, and accomplish your goals this year. It's time for you to be the GOAT!
More About M4 Mastermind
We hosted our first ever Mastermind retreat in Lake Tahoe, CA in 2020 and created this workbook to help everyone plan for the year. The 2023 workbook has been updated! Don't go into the year without a plan on how you are going to achieve your health, wealth, or social goals. This exact workbook was used during our recent in person mastermind in the Bay Area and attendees are already seeeing resutls.
This Workbook Includes
Pre and Post Assessment
Goal Setting Activities
Self Assessment
Habit Building and Tracking
and More
This workbook has helped others accomplish great things like launch a business, invest in real estate, and even quit their job! Download this tool today to get started on your journey. Funds from this ebook will go towards building the Melanated Married Millionaires in the Making Podcast to provide more free information to people like you trying to live their best life.
Others Have Gotten Results
Started a Trucking Company
Earned over $60,000 in sales
Lost 25 lbs
Quit Full-Time Job