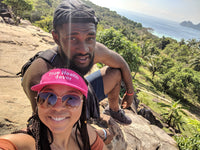 Meet De'Clair
De'Von Truvel the Creator of Black Wall Street the Board Game and Sinclair Thee Health Nerd, FDN-P and Creator of Queen 2 Queen Weight Loss Program are the love behind The M4 Show and Community. Partners in Love, Life, and Laugher De'Von and Sinclair (aka De'Clair) want to help you secure the Marriage, the love, and the bag.
Our mission is to help 100 Married Couple reach a net worth of $1 Million or more. Join our weekly live podcast and community. Tell a couple you want to see win.
Listen to Podcast
Making an Impact
De'Von Truvel inspired my son to start his first business at 7 years old!

Hayward Mom
Sinclair helped me lose 10 pounds with her superfood smoothie recipes.

Educator
I love watching The M4 Show and seeing Black Love at work!

Grandy
Be a Guest on our Podcast
Be Our Guest!
We interview married couples wililng to share their journey, experts with tangible lessons to teach our audience, and families who own a business together.. Submit our M4 Guest form today.